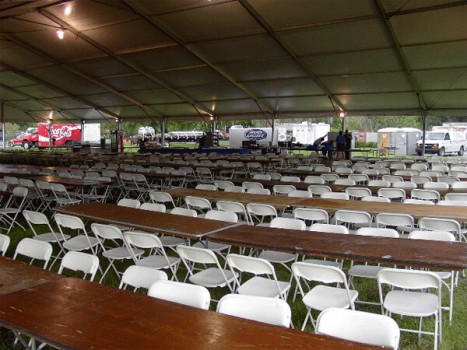 When planning a graduation party for your son or daughter, there is a long list of items that need to be completed. One of the more popular items on that list is throwing a graduation party. Celebrating this huge milestone and accomplishment is fun for the graduates and the adults. The not-so-fun part is the planning, cleaning, organizing, inviting and the unknowns, like how much food do I need, where will I have the party, how can I accommodate all of these guest.
One idea that is very popular for graduation parties is having the party at your house and having a tent in your driveway or yard.
We listed the Top 5 reasons, we have heard from our Florida customers on why they wanted to rent a tent for their son or daughters graduation party:
1. Add Shelter for any types of weather: Tents can add shelter for a hot sun and if it rains. Florida for example, has been known to have unpredictable weather. Occasionally this is the most common first – thought on why anyone would rent a tent but we believe the next 4 are the most important reasons for the renting a graduation party tent.
2. Adds an Extension to your home to accommodate more guest: gradation party tents are a great way to add a temporary extension and extra square footage to your house for the party. You can add anywhere from 400 sq ft to 4000 depending on how big your party and yard are. It's completely up to you.
3. Keeps Guest Outside and your house clean: Having a tent outside will keep your guest outside. By keeping your guest outside this will reduce the foot traffic in your house which will in turn, reduce the amount of cleaning you will have to do in the house on the Sunday or Monday after the party.
4. Overflow for unexpected guest (FB and Social Media): Facebook and Social Media has changed the way parents are planning for their graduation parties. There's typically not an RSVP for these types of invites. Typically the graduates or graduates friends post a status update like "Lindsay's graduation party, 6-1-13, starting at 6, bring whoever". This makes it difficult to plan for unanswered questions: Who will show up, how many will show up, will they stay long, will they eat? Having a tent outside helps accommodate for the unknown guest.
5. It's just fun to have one: Nothing says you're having a party like a tent. Think about it, every time you drive in a neighborhood and see a nice tent, you think to yourself, "they must be having a party!" Not only are they functional but they set the mood for the party and guest. They add a flare to your event. They provide an area for people to mingle, eat and drink.
Our list above of the top 5 reasons why our customers rented a tent for their son or daughter's graduation party hopefully helped.