Pipe and Draping Rentals For Parties, Weddings, and Events
The hottest thing in the social events of the season are our pipe and draping rentals. 
Here at Grimes we have the pipe and drape rental options that are making our customers eager to reserve them for their weddings, parties, and events.
Quantities are limited due to the extremely high demand so make sure you call and reserve yours as soon as you know a date and some party details to go over with our experts.
A short list of several of our clients includes:
The Ritz-Carlton
The City of Boca Raton
The City of Delray Beach
The Relay for Life
Singer Island Resort
Elle Magazine
Vogue Magazine

Florida Atlantic University
NFL Battle of the Beauties
The American Cancer Society
Boca Food and Wine Festival
Palm Beach County School District
Palm Beach County Fire Dept
Royal Palm Yacht and Country Club

Sony Ericsson
Ringling Bros. Circus
Atlantic High School
Royal Palm Beach High School
Royal Palm Yacht and Country Club
St. Mark's Catholic School
Wayne Barton Foundation
And hundreds more…

With the help of our partners and our highly trained staff we are able to bring any vision or event (no matter the size or scope) to life and make your party, wedding, event, or special occasion absolutely perfect.
Just give us a call and let us know what you are looking for. 
Reserve your perfect event tent rental and everything to go with it including: table rentals, indoor and outdoor party lounge furniture, event chair rentals, custom lighting, fans and air conditioning, led furniture, portable flooring including dance floors and stages, and all the accessories your event may need.
What is a Pipe and Draping Rental?
This is a common question as piping and draping rentals are relatively new to the scene in many places.
As some of you will already know, renting pipe and drape is a very efficient way to upgrade a space from standard and plain to exciting and stunningly decorated. It gives you a wider range of venue options to rent or reserve because you can transform any interior.
When combined with the right lighting, you can really take any event to the next level with stunning decor and visually engaging aesthetics.
But how does pipe and draping work?
Using a framework of pipes made of aluminum, steel, or some sturdy material designed for the weight load, Grimes Events and Party Tents will build a framework within a room that we then attach beautiful cloth drapes to in order to decorate, divide, or enhance the surroundings, creating an exhibition-like theatrical beauty that is both welcoming and wonderful while artfully concealing any distracting or displeasing features of the room behind.
The transformation is almost always rather amazing and your guests will feel transported and rave about how much they enjoyed the experience.
3 Tips for Pipe and Draping Rentals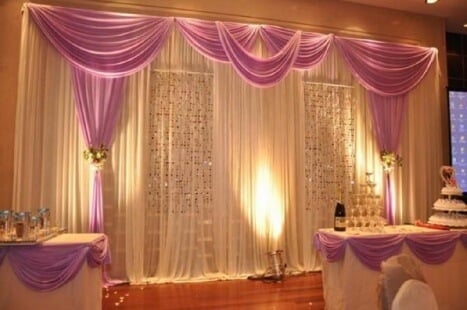 Start With White Drapes – Far and away the most popular color choice when it comes to pipe and drape rentals is white because it is so clean and visually so beautiful and light. In fact, we have a 100% satisfaction rating with white draping. This is an industry-wide trend and we here at Grimes Events and Party Tents want you to have the best event possible so we recommend you start with white and go from there.
Add Color Lighting – Then, after you start with the very best in white drapes, and because adding bursts of specific color is often such an integral part of a wedding, party, or event, you add the right accent drapes or lighting options to the mix to create the ambiance you are looking for, which transforms the beautiful white into a stunning display that tantalizes the eyes and gives a magical feel to an already stunningly decorated environment.
Keep it Simple – When in doubt, simplify. As with every great invention, the simplest versions can often the best, and when we begin to over-clutter the decor or push too many colors, that is when the idea begins to struggle. Remember that less can be more and strike a balance on your list of decorations to find the perfect amount of accessories and decor options without overdoing it. If you want any advice on what options and decorations go best with drape and curtain rentals, feel free to ask any of our specialists who will be happy to go over what would work best for your specific event.
So the next time you are considering an indoor party, wedding reception, birthday event, or other forms of indoor social gathering, remember that you don't have to have the perfect setting to have the perfect party.
Our pipe and drape rental options here at Grimes Events & Party Tents can easily transform any space into a beautiful setting for your event and combine masterfully with lounge chair rentals and other party rentals while staying well within your budget.
We are South Florida's premier tent rental and event tent specialists, operating out of Delray Beach, and covering parties, weddings, & events in Boca Raton, Lake Worth, West Palm Beach, Wellington, Boynton Beach, and all over Palm Beach County as well as all the breadth of Broward down to Fort Lauderdale.
---
---
Call Us For A Competitive Quote
(561) 853-TENT (8368)