Party Chair Rentals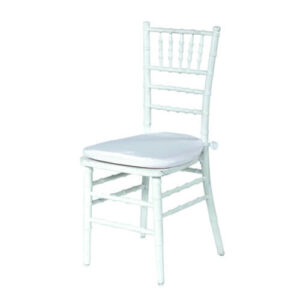 Are you planning a party, event, corporate retreat, social gala, or other type of outdoor or indoor event?
Not only do we supply the tents for outdoor events, and the pipe & drape, and other decor, for indoor parties, we also supply the basic foundations of any event… the tables and chairs.
Grimes has the wide selection of party chair rentals to fit your specific event needs.
Browse our selection or call one of our event specialists to discuss specific requests or event requirements.
We have a huge stock of possible options and will happily go out of our way to ensure you get the exact chair types, colors, and specifications you need for your theme or decor style.
Types of Party Chair Rentals
When you want to have an event that will be remembered, you can depend on Grimes Events & Party Tents to make every detail count. The party chair rentals offered by us are exceptional and can be the extra touch that every event needs. There's no greater way to tie together an event than with matching tables and chair rentals in the dining area. It can really put emphasis on a classier more pristine look.
White Padded Chair Rentals
For optimal comfort, the white padded chair rentals provided by Grimes Events & Party Tents can prove to be essential. These beautiful white padded chair rentals aren't just cozy to sit on for long periods of time though – they also look fantastic. White is such a beautiful, classy color and it can go with just about any type of color scheme.
Black Folding Chair Rentals
To keep your event looking simple and sleek, you can also opt for black folding chair rentals. These provide an excellent way for seating to remain looking anything from professional to standard. Whether you need seats to go behind tables in a booth or black folding chair rentals to be lined up for a wedding ceremony, Grimes Events & Party Tents is the best event rental company to turn to for assistance.
White Folding Chair Rentals
If you want your seats at an event to look clean and orderly, then white folding chair rentals can be a great option. This look is timeless and can really help to transform the space or venue into a beautiful setting. Who would have ever thought that something as simple as white folding chair rentals could do so much?
Party Chair Rentals in South Florida
When you need top quality chair rentals in South Florida for a special occasion, the first company you should think of is Grimes Events & Party Tents. We provide the greatest quality table rentals, furniture rentals, and chair rentals in South Florida locations, like West Palm Beach, Boca Raton, Lantana and Delray Beach.
Chair Rental in West Palm Beach
Grimes Events & Party Tents is the leading source for all tables rentals and party chair rentals in West Palm Beach. When you want to have your dining table match the seats at your event, you can trust in Grimes Events & Party Tents to provide coordinating event rentals to make your event look great. The best place to request chair rentals in West Palm Beach from is Grimes Events & Party Tents!
Party Chair Rentals in Boca Raton
No matter what you need to rent chairs out for, Grimes Events & Party Tents is here to help. All of your party chair rental needs can be taken care of! We have a variety of party chair options and are happy to bring them to your event in Boca Raton.
Event Chair Rentals in Lantana
If you are having a luxurious event or fantastic celebration in Lantana, then let Grimes Events & Party Tents help by providing the best event chair rentals in town! With a selection of black rental chairs and white chair rentals in Lantana, your event can look exactly how you imagine it to!
Chair Rentals in Delray Beach
Have you been looking for the perfect chair rentals for your next event in Delray Beach? Grimes Events & Party Tents wants to help you make your event extra special with the right chair rentals in Delray Beach. You won't find a greater event rental company than Grimes Events & Party Tents!
Regardless to whether you need black chair rentals or white party rental chairs, Grimes Events & Party Tents can help you have the best event you've ever had before. Offering our services throughout South Florida, our desire at Grimes Events & Party Tents is to please each client with top quality products! Let us make your event a special occasion to remember!
Browse our image gallery below to see examples of our most popular party chair rental types.
We are South Florida's premier tent rental and event tent specialists, operating out of Delray Beach, and covering parties, weddings, & events in Boca Raton, Lake Worth, West Palm Beach, Wellington, Boynton Beach, and all over Palm Beach County as well as all the breadth of Broward down to Fort Lauderdale.
With the help of our partners and our highly trained staff... we will give your party or event the ambiance it needs to succeed.