Party Tent Supplies: Tent Liners, Doors & Walls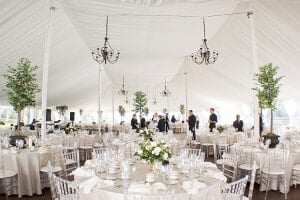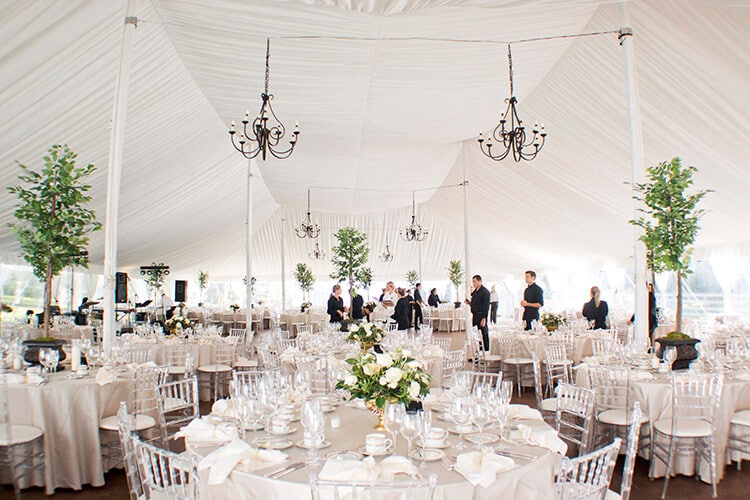 Here at Grimes, our tent rental specialists have decades of experience and are intensely proud to offer the very best selection of tent liners, lighting options, tent doors, walls, ropes, stanchions, fences, red carpets, and air conditioners, fans, and heaters.
We offer a beautiful and stylish array of options when it comes to covering the tent framework with layers of artfully flowing fabric.
Liners also serve to soften an interior atmosphere and create the perfect ambiance for a magical daytime or nighttime event.
Our tent doors are real doors for your tent rental. These are the same high quality French doors you would use on your home and they feature real glass  window panes and automatic closing mechanisms.
Both from an aesthetics and utility standpoint, liners and French doors are wonderful additions to any event or tent configuration.
For most tents and structures, you also have the option to include side walls, which can provide crowd control and a more open ambiance to your event.
They are priced per foot and we carry a variety of styles including; solid wall, mesh wall, and clear wall.
---
---
Ropes, Stanchions, and Fences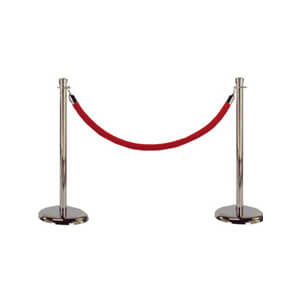 Separate your event into sections, or simply keep your event-traffic under control with guiding ropes, decorative fences, metal gates sections, and VIP stanchion systems.
This sort of space manipulation can be both attractive and functional as it allows you to keep people moving in the right direction.
It can be used to politely direct your guests to the correct zone, to maintain an exclusive area such as VIP seating, to provide a more secure event venue, to keep people off an indoor garden area, or simply to beautify an outdoor area.
Whatever your specific needs, simply call a Grimes customer service specialist to discuss your particular desires when it comes to sectioning off areas.
---
Lighting Options & Colors
There are literally dozens of options when it comes to lighting types and choices, and even more when you factor in color schemes and decorative lighting.
First off, you narrow it down by whether you are hosting a daytime or nighttime event. Then you narrow it further by whether you want in-tent lighting, outdoor illumination options, or some combination.
Next you need to ensure that the coloring of the light matches the ambiance and theme you are going for.
If you aren't sure, one of the best way to get ideas for the lighting you want is to browse pictures and then give our specialists a call to discuss the details to make sure it will work with your event structure.
---
---
---
A/C, Heating, & Fans
Stay warm with our 48,000 BTU heat output commercial heaters with convenient table and wheels. Perfect for cold outdoor nights.
We also have fans for general cooling and air circulation in any private, commercial, or industrial setting. Fans come in both the version that rest on the floor or can be attached to the frame, and traditional ceiling fans like you would find in your home.
Last but certainly not least, especially here in Florida where the temperatures often soar all year long, air conditioners are often an essential part of a tent event, and we can provide whatever sizes and cooling elements you need to accommodate the space and number of guests.
Our service professionals can guide you through the exact specifics of how many AC units and fans you will want to include depending on the unique elements of your particular event.
---
Call Us For A Competitive Quote
(561) 853-TENT (8368)
We are South Florida's premier tent rental and event tent specialists, operating out of Delray Beach, and covering parties, weddings, & events in Boca Raton, Lake Worth, West Palm Beach, Wellington, Boynton Beach, and all over Palm Beach County as well as all the breadth of Broward down to Fort Lauderdale.
With the help of our partners and our highly trained staff... we will give your party or event the ambiance it needs to succeed.