South Florida Tents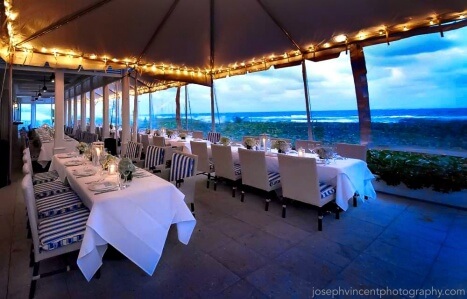 Grimes Events and Party Tents specializes in South Florida Tents (and year round tent rentals South Florida style), but we don't stop there as we are also highly regarded as the best option for wedding tent rentals, party accessories, tables, chairs, and everything you need to put on the perfect event.
We simplify the entire process to take all the stress off your plate so that you can fill it with delicious h'ordeurves (or perhaps birthday cake).
Our South Florida tent rentals cover every kind of event there is, from small and intimate to large sporting events or concert size festivals… and our selection of venue options are unbeatable.
Prefer beach tents for a coast side event? Looking for a clear span to see the glorious sky? Planning a colorful Florida birthday party your children will love? Looking ahead to graduation? Or wanting something for a holiday event?
We have the solutions you need for all your South Florida event tent requests.
A short list of several of our clients includes:
The Ritz-Carlton
The City of Boca Raton
The City of Delray Beach
The Relay for Life
Singer Island Resort
Elle Magazine
Vogue Magazine

Florida Atlantic University
NFL Battle of the Beauties
The American Cancer Society
Boca Food and Wine Festival
Palm Beach County School District
Palm Beach County Fire Dept
Royal Palm Yacht and Country Club

Sony Ericsson
Ringling Bros. Circus
Atlantic High School
Royal Palm Beach High School
Royal Palm Yacht and Country Club
St. Mark's Catholic School
Wayne Barton Foundation
And hundreds more…
With the help of our partners and our highly trained staff we are able to bring any vision or event (no matter the size or scope) to life and make your party, wedding, event, or special occasion absolutely perfect.
Just give us a call and let us know what you are looking for. 
Or you can browse our main pages for gallery images and descriptions including our main party tent rentals, local wedding tent rentals, indoor pipe and drape rentals, outdoor party flooring and staging options, comfortable lounge furniture rentals, lovely LED furniture rentals and party accessories, and classic options including table rentals and chair rentals.
South Florida Event Tents
Tent rentals in South Florida have never been easier than with Grimes. Get the right South Florida event tent for your theme, space, budget, and guests with one simple call.
Our beautiful array of birthday party tents, wedding tents, tents for beach events, and outdoor tent rental options allows you to easily search through and find the right setup for your special occasion.
Grimes is a full service company with an eye on helping make your event the best it possibly can be. Our fully staffed party planning and event professionals understand the nuances of the fine details, and our customer service specialists are always happy to answer questions and pass along helpful advice from these professionals.
South Florida Wedding Tents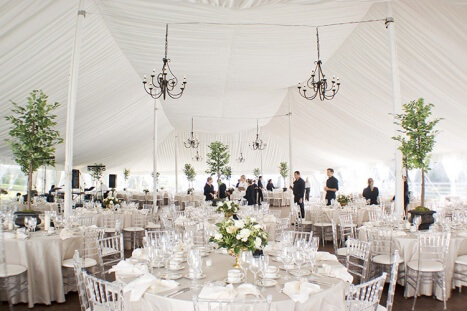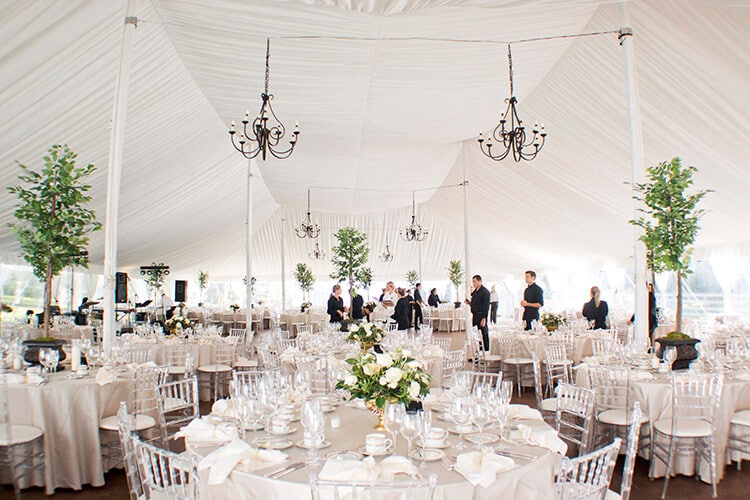 Planning a wedding?
Grimes has the stunning South Florida wedding tent setup you will love, as well as a variety of  large scale reception canopy options to select from, and the accessories that will define the ambiance of your event from the flooring and stages (or dance floors) to the lighting and air conditioning you may want for your special day or night.
Our reputation for excellence among wedding rentals in South Florida is only matched by our unswerving loyalty to our customers and dedication to making everything perfect on our end so that you can focus on enjoying your event and reveling in how much of a such it ends up being.
Party Rentals South Florida
The success is always in the details.
We have worked with hundreds of big name and private clients because we have built a reputation on going the extra mile to make every South Florida party tent rental the best it can be.
We also offer the widest array of high quality accessories with a large selection of party tarps, party tent lighting, party chair rental options, party floors and stages, wedding tent decorations, and everything you need to turn a good event into a great one.
Our party supply options will definitely help create a party environment uniquely suited to your tastes, style, and guest selection. And if there is anything in particular you want, don't hesitate to ask as we love going the extra mile for our clients, and are happy to try any reasonable ideas you may have for your particular event.
Linen Rentals South Florida
No event is complete without linens yet they are often one of the most overlooked decor elements.
We offer the finest options for outside and interior event decor at extremely affordable prices, and this includes a huge variety of table types, chairs, artful lighting, fans, AC's, pipe and drape decor, and linen rentals in South Florida.
Special Event Tent Rentals in South Florida
There is simply no need to compromise on price, quality, or service.
Get the best of all worlds when you rent from Grimes. No matter what kind of South Florida tent rentals you need, whether you require a wedding canopy, large scale event tent, beautiful beach venue setting, or specific array of decorative elements to go with your frame tent, there is no better place for party tent rentals in South Florida than the premier event tent specialists at Grimes.
Call now to discuss your venue options and needs. 
Looking to host your event in a specific city?
We cover all your South Florida tents needs, providing Palm Beach County tent rentals including beautiful Boca Raton event tents, wonderful Boynton Beach party tent rentals, stunning Delray tents, Lake Worth event tents, Jupiter party tent rentals, West Palm Beach event tents, Palm Beach Gardens tent rentals, and Wellington tent rentals… plus more! We also service Broward event tents across Deerfield, Pompano, Fort Lauderdale, and so many others.
---
---
Call Us For A Competitive Quote
(561) 853-TENT (8368)