Indoor or Outdoor Dance Floor Rental Options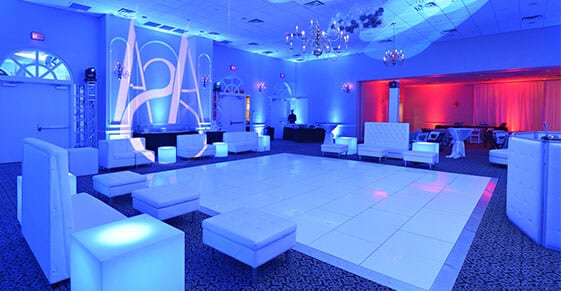 Take a moment to browse our wonderful dance floor rental options for both indoor or outdoor use.
Here at Grimes Party Tents, we provide a wide variety of professional and portable party floor rental systems that are the safe and enjoyable way to enhance any event.
Our indoor and outdoor dance floor options are available in wood parquet and wood grain vinyl and feel free to ask us if you have any questions as we can also customize your dance floor to ensure it is the perfect size, shape, and look for your special event.
Temporary Outdoor Flooring Rental
Our temporary outdoor flooring rentals are designed to protect grass surfaces such as those at stadiums, fairgrounds, golf courses, or lawns. The outdoor flooring rental can remain on the grass surfaces for several days without damaging or killing the grass. The unique moisture canopy in our outdoor flooring is designed to prevent the grass from drying out or overheating. Moisture is retained within the outdoor flooring rental canopy to keep the grass green and growing. Port-a-floor also protects the grass by evenly distributing the weight – even under the extreme weight of fork lifts or trucks.
Going with a temporary outdoor flooring rental is an excellent option for a practical and pleasant appearing outdoor floor to cover asphalt, sand, or other rough or discolored surfaces. It is more attractive than dirt, asphalt, gravel, or ordinary floors, and its unique design allows rain to flow under the surface of the outdoor flooring while your guests' feet stay dry. Port-a-floor also makes a wonderful ADA Compliant covering which allows wheelchair accessibility.
---
---
---
Party Stages and Staging
Here at Grimes, we can design party stages or custom staging to fit any event! We can also place party stages and staging over almost any obstacle.
Our party stages can be as small as 4? x 8? or we can provide staging as large as 40? x 120?. The stage height is adjustable from six inches to two feet depending on what you are looking for and what type of event you are throwing.
Whether you need staging for business events or party stage rental for weddings or social events, Grimes Events and Party Tents has the ability to provide you with high quality temporary staging to suit any needs.
Components:
4? x 4? Sections
4? x 4? Sections, carpeted
Skirting, per foot
Additions:
Stairs
ADA Ramp Systems: Please Call
Safety Rail, per foot
Backdrop, per foot
Outdoor Party Flooring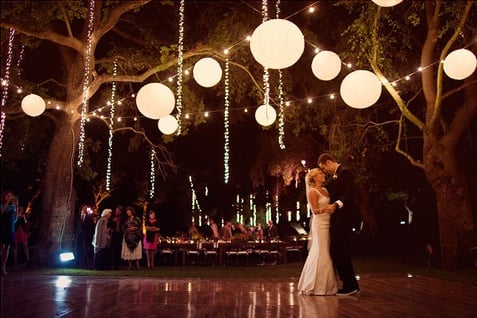 Grimes is the #1 South Florida provider of all-purpose outdoor party flooring, staging, indoor party flooring, dance floor rental options, and custom party stages.
Our outdoor party flooring options come in all shapes and sizes, and we are always happy to help you figure out the best possible options depending on your space, theme, number of guests, and other relevant factors.
Whether you need outdoor party flooring for a business event or  staging and indoor party flooring for a wedding, give us a call and we can work with you to figure out the best outdoor flooring, indoor party staging, or dance floor options for your needs and budget.
If you are having a wedding, birthday party, Bar/Bat Miztvah, sporting event, concert, social gathering, or other event, and require a place for guests to either walk or dance, then you should explore the options available using portable flooring. And if you require a stage, then there is no better source for custom designed portable stages.
---
Call Us For A Competitive Quote
(561) 853-TENT (8368)
We are South Florida's premier tent rental and event tent specialists, operating out of Delray Beach, and covering parties, weddings, & events in Boca Raton, Lake Worth, West Palm Beach, Wellington, Boynton Beach, and all over Palm Beach County as well as all the breadth of Broward down to Fort Lauderdale.
With the help of our partners and our highly trained staff... we will give your party or event the ambiance it needs to succeed.