Pembroke Pines Event And Party Rentals
For over 20 years, Grimes Events & Party Tents has been the number one choice for Party Rentals in Pembroke Pines. Are you looking to throw an unforgettable party at your Pembroke Pines home, business, or even school? We have everything you could need to throw an awesome event or party in Pembroke Pines. We have the most affordable and competitive prices in the area, paired with high-quality party rentals and top-notch customer service. Furthermore, our party and event rentals are great for indoor and outdoor tent events, weddings, fashion shoots, backyard birthday parties, and much more! From tents and catering supplies to tables and chairs and everything in between. We're the top provider of Pembroke Pines Party Rentals. Throw the best party of the year when you choose Grimes Events & Party Tents for second-to-none Party Rentals.
If you're hosting an outdoor party or event in Pembroke Pines, a tent is a great idea. Considering that Pembroke Pines is hot and humid throughout most of the year, having one or more of our tents could be a great idea to ensure your guests stay as comfortable as possible. Our tents are made to keep you and your guests cool even outdoors.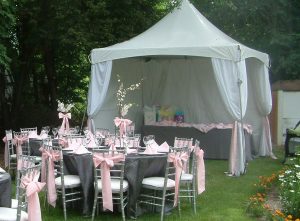 When you pair one of our tents with tent accessories like our portable air conditioner, or one of our many tent lighting options, you can further increase comfortability and the atmosphere of your party overall.
Everybody has tables and chairs in their homes. But, not many people have enough tables and chairs for a large amount of people. A lot of people don't consider this when planning a party or event, and it can lead to issues with attendees not having anywhere to sit or eat. Well, at Grimes Events & Party Tents, we've got you covered. Our wide selection of table and chair rentals in Pembroke Pines can be used for a number of different purposes. From eating to playing games or simply having a place for guests to sit and chat. Grimes Events & Party Tents tables and chairs offer supreme comfort and style. If you're looking for table and chair rentals for your next party or event in Pembroke Pines, look no further than Grimes Events & Party Tents.
An excellent party or event can be hindered by one thing – a lack of delicious food. At Grimes Events & Party Tents, we have everything you could need to serve food at your next party or event. From serving dishes for sides to conventional ovens for entrees like Pizza and meats. What's on the menu is up to you! Rest assured knowing that our catering supply rentals will keep food hot and delicious at your next Pembroke Pines party or event.
Grimes Is The Number One Choice For Pembroke Pines Event Rentals
For over 2 decades, we've been providing the residents and business owners of Pembroke Pines with top-of-the-line party rentals. Everything you could possibly need to make your next event, party or even wedding one-of-a-kind can be found at Grimes Events & Party Tents. Want to learn more about our Pembroke Pines party and event rentals? Give us a call at (561) 853-8368 or contact us online to learn more. We always keep our prices low and competitive, in order to best serve the residents of Pembroke Pines.
---
---
Call Us For A Competitive Quote
(561) 853-TENT (8368)