The Best LED Furniture Rentals
Posted on: October 29, 2018
LED furniture rentals can completely transform the look and feel of an event. They can also be the perfect rental for weddings and corporate events as they provide a decorative element for dance floors, dining halls, lounge areas, bars, and pools. Led furniture doesn't only set the atmosphere, but it is also functional, safe to set-up and use and affordable. At Grimes Events And Party Tents, we offer the widest selection of LED furniture. From lounges and bars to chairs and, we have got you covered.
The Perfect LED Furniture Rentals
Our LED lit up bar furniture can help to set the mood at any social gathering. LED bars fit in perfectly at a cocktail hour. Our spandex covered hightop LED tables can be a great addition to impress guests. They also provide functionality as guests can relax and enjoy their food and drinks. We can also provide LED tables that can be positioned next to sofas and used for guests to place their drinks or plates of food on while they are seated.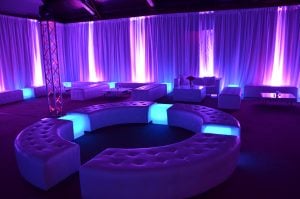 LED Party Rental Additions
At Grimes Events And Party Tents, we also offer other LED elements that are the perfect party additions. Our LED floating globes are a perfect accent piece for social gatherings and parties that have pools. LED cubes are another great party addition. They can be placed throughout an event in order to provide mood lighting and all guest to see.
Grimes Events And Party Tents will provide the highest quality of LED furniture rentals. We also offer other event rentals like tables, chairs, and tents to accommodate any and all party needs. If you are wanting to add extra flair to your next event, then call Grimes Events And Party Tents at 561-853-8368 for all of your LED furniture rental needs.