Everything You Need to Rent for a Spectacular Wedding
Posted on: September 19, 2017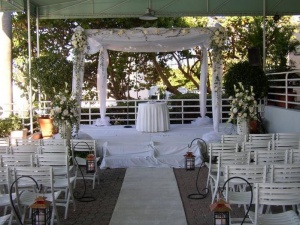 Are you planning your Big Day and endlessly searching for what to rent for your wedding? Planning a wedding can be difficult enough when you have to discover the perfect venue for where you will say your vows and head over to celebrate during the reception. But when you have to consider what other types of special event rentals you will need, it can be even more overwhelming. That's why having a list of everything you need to rent for the best wedding celebration of all time can be a lifesaver!
What to Rent for a Great Wedding
It's critical for you to know what you will need at your wedding for the best possible outcome. This will allow you to plan accordingly for your special day. With the leading event rental company Grimes Events & Party Tents offering the widest selection of event tents, chair rentals, wedding tents, outdoor party flooring, party tent lighting and drape rentals, you can count on all of your wedding rental needs coming from one fantastic place!
Your Choice of Wedding Tent Rentals
An important component to a phenomenal wedding is a wedding tent. Grimes Events & Party Tents offers thee widest selection of wedding tent rentals. So whether you want a beach wedding tent rental, frame tent rental, pole tent rental, canopy tent rental, or another specialty event tent rental, Grimes Events & Party Tents has the rentals for tents you dream about!
Pipe and Drape Rentals
Once you decide on the type of tent you want for your wedding and/or wedding reception, you can choose to add pipe and drape rentals for extra decoration. If you have wedding colors and themes, this can be coordinated with the style of the and color of the tent, pipe and drape rentals. At Grimes Events & Party Tents, an exceptional staff can help to create what you envision for your big special day. From setting up colored or designed drapes across your tent or room to creating the stunning space you crave for your wedding, Grimes Events & Party Tents can do it all.
Outdoor Dance Floor
Dancing and weddings go along together. If your venue doesn't include a dance floor, it doesn't mean you have to cut out the dancing! With Grimes Events & Party Tents offering outdoor dance floor rentals, you can create just about any type of dance floor for your environment that you want! It's your party and you should celebrate the way you want to! It's nice when you can select a venue and choose your own type of dance floor – even if the party is outdoors!
Party Stage Rental
Just like you can add a dance floor to any venue you want, you can also choose to have a party stage rental included at your wedding. This will give extra height for you and your soon to be spouse, speeches, the DJ and whoever or whatever you want to stand out!
Lounge Furniture Rentals
An additional key component for the best wedding can include lounge furniture rentals. Whether your wedding will be held indoors or outdoors, Grimes Events & Party Tents can provide your choice of brand new party lounge furniture rentals! From our LED light up furniture, including glowing cubes and counters, to comfy and cozy cushioned seating, we provide the best quality lounge furniture that you will be sure to love at your wedding!
Tables and Chair Rental
A wedding requires all types of rentals, including the right table rentals and chair rentals for the wedding ceremony and reception. With customized buffet tables, banquet tables, round tables, shaped tables and cocktail tables, Grimes Events & Party Tents has the table rentals you fantasize about for the most beautiful ceremony. On top of this, the chair rentals that are offered can coordinate with your choice of table. With all different types of party chair rentals and table rental options, you can create the celebration space that you personally have in mind!
Party Tent Lighting and Accessories
To bring your wedding from a beautiful wedding to an unbelievably remarkable wedding, you can add party tent lighting to set the atmosphere to the space you dream of. You can include these types of wedding rental accessories, including chandeliers, Italian market lights, side curtains, Chinese paper lanterns, ropes, colored lighting schemes and more!
Grimes Events & Party Tents
When it comes to having the perfect wedding, you can count on Grimes Events & party Tents to provide every missing piece of the puzzle so you have your dreams become a reality. On your wedding day, it's natural to want everything perfect, and the best way to make this happen is to choose the perfect company for all of your special event rentals. For over two decades, Grimes Events & Party Tents has been making dreams come true with beautiful event rentals for weddings. Are you ready for the wedding of your dream? Contact Grimes Events & Party Tents today at 561-853-8368 (TENT).