Choosing The Right Tent Rental For Your Party or Event
Posted on: August 30, 2017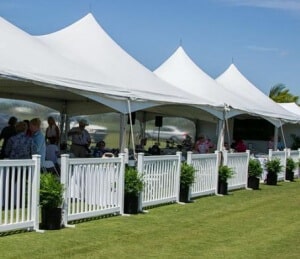 If you've got a wedding or big event coming up, then you know how stressful it can be to coordinate all of the details, including party tent rentals. Even before you contact a company for event tent rentals, you may want to consider the size of the tent that you are looking to have at your event or wedding. When you are figuring out the size that you will need for your rental tent, there are several factors you should consider.
Types of Tent Rental Options
One major aspect that will help you to be able to determine the size of the tent rental that is right for you involves considering the type of tent you would like to rent. Not all tent rentals are created equally, so it' important to look at your options for tents so that you can choose one that suits your event or wedding theme best.
Frame Event Tents – One option for tent rentals includes frame event tents, which are great when you don't want any stakes or center poles used because these frame tents have no poles at all. This can actually create more space under the tent. if you are looking for more space and a larger tent size, then this can be a fantastic option since it is more open.
Century Event Tents – If you are looking for a different type of large tent, then consider century event tents. These century tents are large tents that come with additional pieces for the ends, middles, and center sections so you can transform your tent rental to suit your event or wedding best.
Clear Tents for Weddings – Another choice for tent rentals that can create a more open look and give the appearance of more space includes clear tents for weddings and events. Clear tents allow you to see the outdoors but still provide coverage. you will be able to look at the sky and the background! These can be excellent choices if you would like to create the appearance of an even larger tent.
Wedding Canopy Rental – To really create the appearance of a larger tent and open up the space, consider opting for a wedding canopy rental. These tent rentals open up space for breathability. There are even some wedding canopy rentals with an open ceiling, allowing for you to look up at the sky!
There are even more types of tent rentals, such as pole tents and marquee tents.
Surface for the Event or Wedding Tent
If you are trying to figure out the size that you will need for your event or wedding tent, then you will need to consider more than just the type of tent you will be having. You should also think about the surface where the event tent rental will be placed. if it is on a beach, the grass, concrete or carpet, then you need to think about this because certain types of tents may be more suitable for particular grounds which can impact your decision on the size of your tent rentals for the wedding or event.
Amount of People Expected at the Event
Another aspect to keep in mind when you are trying to figure out what the best size tent rental is for your event or wedding is the amount of people you expect to have present at your event and under the tent. This is important because it will help you determine the right size tent for you.
If you are having a smaller event or wedding, then getting one of the largest tents isn't necessary unless you have other space you would like to fill with items such as table rentals, chair rentals, dance floors, etc. On the other hand, a larger crowd will certainly require a large tent. A cathedral seating allows for a minimum of 8 square feet per guest while a standing event has a minimum of 10 square feet per guest.
As far as seated ding size requirements, it is best to speak with a tent rental company because it depends on the table sizes and layout in the tent rental. Keep in mind that tents can be any amount of size. At Grimes Events & Party Tents, tent sizes can be anywhere from 100 square feet to 35,000 square feet. It's a huge difference, so knowing the expected amount of people is critical.
Items Under the Rental Tent
In addition to being aware of the amount of expected people that will be covered by the tent, you should also consider room for chair rentals, table rentals, stages, dance floors, food and other items. This can also take up space and you will want to make sure you have enough room for your guests to move around  as well. These are necessary aspects to keep in mind when you are considering the size of your tent rental for your wedding or event.
Why Choose Tent Rentals From Grimes Events & Party Tents
When you need high quality tent rentals, choose Grimes Events & Party Tents. At our event and tent rental company, we are dedicated to providing ideal tents for your event or wedding. From beach tents to wedding canopy rentals and more, we have the most diverse selection for all of your party tent needs. We strive to provide the best possible materials needed for special events and weddings so that you can have the most desirable experience. Call for a competitive quote today at 561-853-8368.